It was all over the news last night...
Also found a supporting news about this heartless act over the net: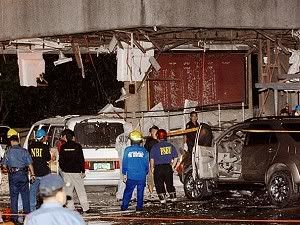 - - - - - - -

Bomb blast kills 2 in House, Negros Or. lawmaker critical
BY CARLA GOMEZ

A powerful bomb ripped through a section of the south entrance lobby of the Batasan Pambansa in Quezon City at about 8:05 last night, killing a congressman and a driver, and injuring at least nine others, including two lawmakers.

Dead were Basilan Rep. Wahab Akbar and Marcial Talbo, driver of Gabriela party-list Rep. Luzviminda Ilagan, officials said.
...
More
- - - - - - -
I strongly condemn this senseless act of murder as a way to point out to a certain faction what they are fighting for (this includes local or foreign terrorists and murderers).
I despise beings who resolves everything by force and by killing. What has happened to peace and the idealism of what they are fighting for if they willing and are sacrificing lives of their fellowmen. What kind of lazy story for an excuse will they make to their daughters and sons about how they fought their idealism and the human lives they taken? What kind of sick and demented brains do they have for not having mercy, and giving importance to life?
I am really enraged with these acts of this mindless brutes...
But I believe in a greater power that is just and righteous who will bring justice in the end of days to whom they can not escape... Justice will be done.