Last Saturday and Sunday, that is October 27 and 28, I attended Glass House Graphics' 5th Annual Manila Comics Seminar.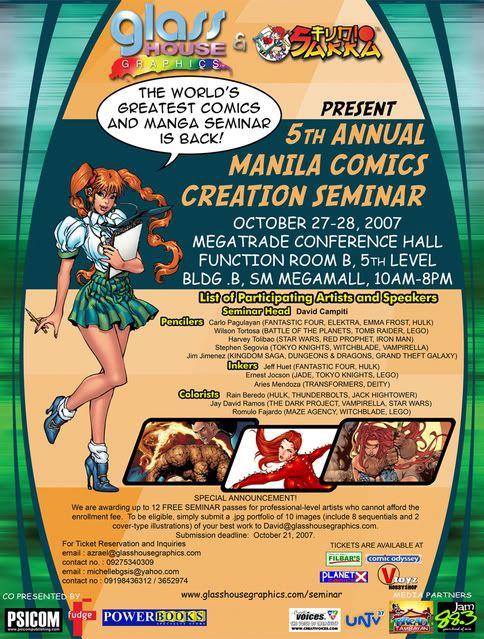 Met a lot of great Artist who inspired me to once again pursue art and continue it not as just a hobby but an opportunity as a career.
A Heartwarming real life story of Mr. Bong Dazo, who is a proud artist, endured every obstackles and what made me idolized him more is his own experience of his mother's death while he was still doing artworks for Glass House, and after that his attitude towards his work changed. "Never be a wise ass" and "the show must go on" are the lines he frequently emphasized during his talk and I thank him for giving that helpful tip that I will use and apply in my life and someday if (possible) I am lucky enough to enter the world of professional comics
After his speech, Mr. Dazo humbly stepped down and proceeded to the Power Books booth in the conference hall. I approached him, inspired by his life and work and ask for an autograph... The odd part is that he asked "Baket?"(Why)... and I don't know what did I say that time, a murmur perhaps? saying "Got inspired of you're work and life(referring to his turning point experience)" well he grabbed the GHG give away booklet, and as usual my being an otaku or fan kicked in and said to him "Uhm sir, pwede pu ba pasulat ng name nyu at sa itaas yung signature?" ("Sir, Can you blace you're name and signature on top") - Hahaha after that it is like I was asking him to fill up a bio data or resume where that style of "signature over printed name" thing. The odd part is he said "I know, why don't you write down your address and I will sent you a original (dunno what? comics or signature, any is very much welcome) via fedex (or some courier)" I answered "Really?" and I eagerly wrote down the address... Hope I got it right, I am kinda disturbed after that because did I place the "ñ" on "Dasmariñas" or did I wrote down "Dasmarinas".... and I don't know the our zip code.... waaahhhh Hope (if he sends it) it will not get lost ahuhuhu... but well, rubbing shoulders with him is a great pleasure for me already... the original is like overkill? hahaha or overjoy... My face will be like on that commercial ad of Splash Island... hehehe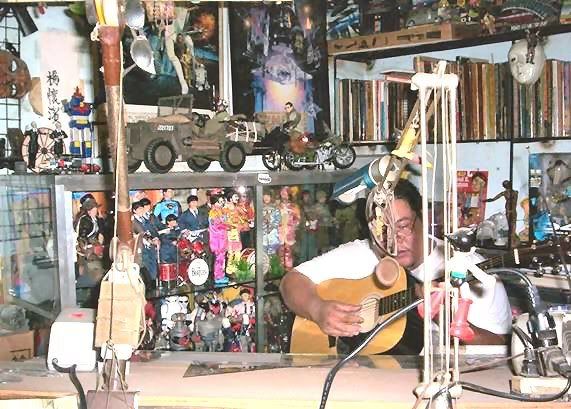 "The Man" - Filipino and Great Artist Mr. Bong Dazo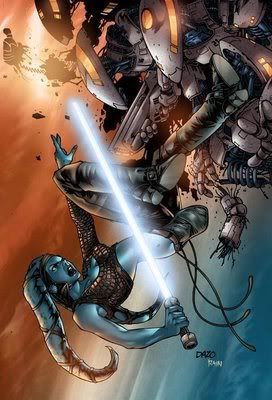 Images and interview can be found from this site

For more Info and artworks of Bong Click on his face below hehehe

Thanks to Glass House Comics for introducing me to new artist (to me) for inspiration, also thanks to
Azrael
for the info about and directions to GHG 5th Annual Manila Comics Seminar and being so accomodating to the artist... I wonder why? Is it beacuae of the Organizer ID he was wearing? uhm I don't know... maybe? hehehehe just joking Az.